For Profit Colleges – Abysmal Graduation Rates
Let's face it, when it comes to graduating students, colleges as a group are not getting the job done. With graduation rates trailing those of high schools by roughly 25 percentage points, there is little doubt that college dropouts are a huge issue.
But a new report from The Education Trust reveals that the for-profit college sector takes the 50 percent national college graduation rate to depths not seen before. It seems that the for-profit industry is graduating barely 20 percent of its students when using the standard statistical time frame of six years.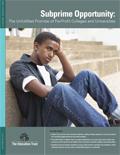 Though for-profits spend far less to educate each individual student than public and private colleges, the average low-income student at a for-profit actually ends up paying almost $8,500 more per year than the average low-income student at the more expensive private nonprofit. The result is that these institutions, rolling in profits from strong marketing campaigns, appear to be doing very little for students with the exception of saddling them with enormous amounts of debt.
This sad state of affairs is summarized in the Trust report as follows:
As with the collapse of the subprime lending industry, the showdown between for-profit colleges and the government shows how the aspirations of the underserved, when combined with lax regulation, make the rich, richer and the poor, poorer. For-profit colleges provide high cost degree programs that have little chance of leading to high-paying careers, and saddle the most vulnerable students with heavy debt. Instead of providing a solid pathway to the middle class, they pave a path into the subbasement of the American economy.
The report certainly clouds our thoughts as to whether or not one should still consider for-profit institutions when thinking of where to apply to school.
Some samples of graduation rates in the report:
University of Phoenix – 9%
DeVry University – 31%
The Art Institute – 41%
Berkeley College – 35%
Sullivan University – 15%
Westwood College – 27%
International Academy of Design and Technology – 16%
School of Visual Arts – 67%
The Illinois Institute of Art – 44%
ITT Technical Institute – 66%