American Institute for Economic Research – Best College Towns
Finally, a list based on objective criteria.
We have routinely panned the many publications that formulate arbitrary rating structures then use those ratings to sell magazines. But there are independent organizations that seek to provide information that is meaningful to students and families and in some cases provide the info free to the public.
Such is the case with the non-profit American Institute for Economic Research and their 2010-2011 College Destination Index. AIER focuses on ranking the "Best College Towns" breaking up those towns (probably should be called cities) into four population categories: populations under 250,000, 250,000 to 1 million, 1 million to 2.5 million, and over 2.5 million.
The goal of the index is to provide students and their families a way to compare college locales as opposed to examining any one specific school. To determine the ranking, the American Institute looks at three distinct areas: academic environment (student diversity, research capacity, and degree attainment), quality of life (arts and leisure, city accessibility, creative class and cost of living) and professional opportunity (earning potential, entrepreneurial activity, unemployment rate and brain gain or drain).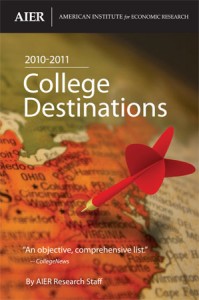 What makes the publication meaningful is that it is based upon truly objective data. AIER uses information collected from the U.S. Census Bureau, the U.S. Bureau of Labor Statistics, and the National Science Foundation. It is not based on any criteria that schools self-report nor is it based on anecdotal evidence like surveys.
In arriving at their top college towns, AIER identified 222 metropolitan areas with at least 15,000 students. Below we list their findings for the top 70 in the four distinct population categories.
Those interested in the findings will find the index free at the AIER website. The details are well worth an examination. For example, in the largest metro areas, San Francisco earns the top spot overall. But a more in depth look will reveal it also offers the highest cost of living numbers for the larger cities. If you want a big city atmosphere but are concerned with cost of living, then Minneapolis/St Paul, Denver, Phoenix or Atlanta are the place to be. If you want diversity, then Phoenix is your place but it is the lowest in arts and leisure, etc.
And yet another interesting element is whether or not a student will head off to college thinking he or she will return home upon completion of their program or want to use that locale as a career jumping off point. The detailed info provides current unemployment numbers as well as the earning potential should a student choose to remain in the area.
While the summary is available online for free, the institute is also publishing a companion guide, 2010-2011 College Destinations ($10) which provides info on all 222 locales as well as in depth details on 40 cities from the index, 10 from each of the four population categories.
Rank
Top Major Metros

Pop: 2.5 million plus

Top Midsize Metros

Pop: 1 – 2.5 million

1
San Francisco, CA
San Jose, CA
2
New York, NY
Austin, TX
3
Washington, DC
Raleigh, NC
4
Boston, MA
Hartford, CT
5
Seattle, WA
Portland, OR
6
Baltimore, MD
Pittsburgh, PA
7
Los Angeles, CA
Salt Lake City
8
San Diego, CA
Rochester. N.Y.
9
Minneapolis-St. Paul, MN
Buffalo, NY
10
Philadelphia, PA
Nashville, TN
11
Chicago, IL
Sacramento, CA
12
Denver, CO
Richmond, VA
13
Miami, FL
Columbus, OH
14
Phoenix, AR
Tucson, AR
15
Atlanta, GA
Charlotte, NC
Rank
Top Small Cities

Pop: 250,000 – 1 million

Top College Towns

Pop: under 250,000

1
Boulder, CO
Ithaca, NY
2
Ann Arbor, MI
State College, PA
3
Bridgeport, CT
Iowa City, IA
4
Trenton Ewing, NJ
Ames, IA
5
Gainesville FL
Champaign-Urbana, IL.
6
Madison, Wis.
Charlottesville, VA
7
Durham, NC
Corvallis, OR
8
Santa Cruz, CA
Bloomington, IN
9
Honolulu
Lawrence, KS
10
Fort Collins, CO
Logan, UT
11
Santa Barbara, CA
Lafayette, IN
12
New Haven, CT
College Station, TX
13
Lincoln, NE
Columbia, MO
14
Albany, NY
Flagstaff, AZ
15
San Luis Obispo, CA
Bloomington, IL
16
Naples, FL
Burlington, VT
17
Manchester, NH
Blacksburg, VA
18
Oxnard, CA
Morgantown, WV
19
Santa Rosa, CA
Athens, GA
20
Portland, ME
Fargo, ND