CollegeWeekLive – Attending an Online College Fair
High school students looking to learn more about the college application, admissions and choice process have a great upcoming opportunity next month.
CollegeWeekLive, the world's biggest virtual college fair, has been set for March 25th and 26th. Featuring more than 250 colleges and universities from around the world, the annual event is expected to see as many as 28,000 attendees.
What makes CollegeWeekLive so unique is that it offers all of the standard college fair information that students seek when attending such an event but does so in an online format. Therefore, from one's home or school computer, a prospective college student has access to a wealth of information in a cost-effective and convenient manner.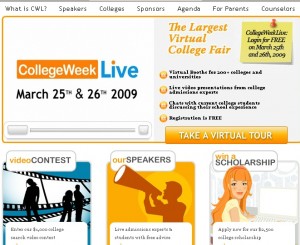 The bi-annual event (held each November and March) offers students access to some of the top experts in the field. Virtual fair attendees can watch admissions experts speak on SAT preparation, the application essay process and or how to pay for college. Attendees will also be able to ask various questions via live chats.
The event will also feature virtual booths for the various colleges taking part in the fair. These booths will offer student attendees electronic brochures, videos, webinars, and podcasts related to the school. In addition, students will have the opportunity to real-time Instant Message and/or video chat with admissions counselors and students from those institutions.
As for the specific, potentially-valuable presentations for students March 25th offers:
How to Go to College in a Tough Economy – Dr. Katherine Cohen, Author, President of Applewise
Perspective From the Admissions Office – An Admissions Office Panel featuring Dr. Patricia Peek, Fordham and Gil Rogers, U of New Haven
How to Prepare for and Take the ACT – Andrea "Rae" Jones, ACT
Getting Into College Support – Amy Newmark, Editor Chicken Soup For the Soul: Teens Talk Getting into College
Being a Student Athlete – National Collegiate Scouting Association Counselor Lisa Strasman and Carla Pentimone
Federal Financial Aid and the FAFSA Form – Department of Education
Understanding the GI Bill – Patrick Campbell, Chief Legislative Counsel, Iraq and Afghanistan Veterans of America
On the second day, March 26th, scheduled topics and presenters include:
What Matters in College Admissions – Matthew Greene
Choosing a College – Rob Franek, The Princeton Review
Mythbusting the SAT – Laurence Bunin, Senior Vice President of the SAT Program, The College Board
Writing a College Essay – Jaye Fenderson, Author, Seventeen Magazine
The College Interview and Visit – Bev Taylor, The Ivy Coach
Attending an International School: The University of Melbourne – Krista Northup, North America Manager, University of Melbourne
Planning For Paying For College – Angela Nuzzi, NHHEAF
Sports Scholarships – Dion Wheeler, National Collegiate Scouting Association
More details on the proposed agenda as well as relevant links to some of the presenters are available on the CollegeWeekLive agenda page.
Though the program should be extremely worthwhile, as an added incentive to folks, College WeekLive will be giving away a brand new 13-inch aluminum MacBook to one lucky attendee of the fair! . There is a video contest and the chance to win a $2,500 scholarship to the college of your choice.
And if you attended the November CollegeWeekLive and are still a current high school student, you can also complete a survey that will make you eligible to win an iPod Touch or a $300 donation to the charity of your choice. High school seniors will find the link to their survey here while underclassmen will find a separate survey at this location.