College Graduation Isn't as Far Away as it Seems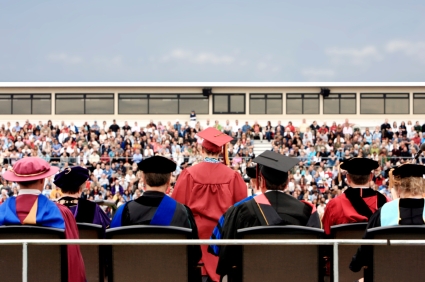 If you're a college senior, don't forget that this is your last semester and graduation is only a few short months away. The future is now.
While "senioritis" and doing nothing might be your proposed direction, it's not the best one for now. You're almost fully into "real" adulthood, and your responsibilities are going to get bigger than ever. Don't assume you're getting off easy for the remaining three months. You still probably have requirements to take care of academically, like taking classes that can maintain your grade point average. Additionally, your goals for the upcoming years are still to be finalized, whether they are for fellowships, graduate studies, or professional pursuits. It's right now that you should be working to solidify your plans for the years ahead.
Be advised that some schools have varying requirements regarding graduation. Some require you to actually apply to graduate, whereas others will assume that you're in the graduating class of 2008. Whatever the case may be, make sure that all paperwork is filed so that you get to proceed with receiving your honors of academic completion.
As far as other requirements, you'll likely be responsible to maintain a certain GPA, to finish any incomplete courses, to ensure that your major requirements are met, and any additional requirements are also addressed. If you have a major advisor at this time and you're still in doubt about your requirements, it's best to coordinate with him/her as soon as possible to work out any logistics in your schedule. Some major requirements classes, for example, are only taught during certain semesters. What do you do when it's not offered at your last possible semester? Work with your advisor to see if there are any suitable alternative courses that still will get you out the door.
Research graduation requirements as soon as you can on your school's website to make sure that all issues, financial and academic, are resolved.
It's never too early to start preparing for the commencement weekend (or days). Start working out lodging details for out-of-town guests. Some schools offer this on-campus. Others partner with local hotels for good deals. Jump at opportunities for affordable discounts and rates, because these places will sell out quickly. If you can make a trip out of graduation for your family, they'll probably appreciate it. Plan out a week with the family when they come up — or just have them attend the festivities. In any case, you want to prepare early and not later. Big tip: If you have a big family (and there are only a few tickets handed out for your commencement exercises), become friends with your classmates quickly and have them give you those extra tickets. They will go away fast.
It's a busy time of year for the second-semester college senior, but if you make the best of it and work hard to do so, you'll get ahead of your classmates and be all ready for the big day. And after that, the future is looking at you.