How To Beat the Freshman 15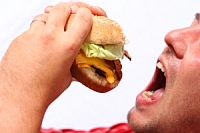 I'm sure you've heard about — or lived through — the freshman 15. This is the rumored first year of college where freshman pack on approximately 15 pounds in their first year. Is it real? As a victim, I'm said to say that yes, it is. Studies have also shown that students are likely to pack on an incredible amount of weight throughout college — not only are you vulnerable during your first year.
Why the weight gain? Let's tackle this obvious question first. For many, college is the first time you're not under mom and dad's watch and there are a lot of temptations in the way. Student meal plans often afford unlimited meals or snack points, so you're often eating food when you don't even realize it. Additionally, college can be stressful, and an easy way to deal with stress can be to chow down on some chocolate or something yummy.
Beware of the dangers: Temptations and freedom come at a cost. Weight gain can puts you at risk for diabetes and can give you high blood pressure, high cholesterol, less energy, breathlessness, and joint pain/problems. It's especially difficult to get out of this slump if you're already somewhat overweight — and this can put you in heart disease or obesity territory.
Avoid the problem: As much as you may hate your servings of fruits and vegetables, if you're studying and need a snack, add carrots to the mix. Drink water — lots of it. Evaluate your eating and exercise habits and make adjustments. If you live on a big campus, walk to class and don't take the shuttle bus. Cut some snacks and be cognizant of your food intake. Many times, you're eating food without realizing it, and that extra 200 calories is totally not worth the hassle.
You can also attempt these other tried and true techniques to avoid the problem:
Don't eat while stressed out. If you must have something, drink water.
Eat slowly and enjoy your food! You have no idea how much of a difference it makes to actually pay attention to what you're consuming. Studies show that individuals who were forced to rush their food intake eat approximately 170 calories than those who actually sit down and take their time.
Don't skip meals. Chances are, the healthiest food is available during campus dining hours. You don't want the dining room to be closed and then relegate to the Mars bar. It's not worth it.
Don't snack — but if you do, go with the healthy stuff and a bottle of water.
Where you can, take the low-fat options. The taste is usually not that much different.
Ignore the temptations for the vending machines! Sure, it may be cheaper than your local grocery store, but it's a trap.
I'll talk about some good diet options in future columns on the blog, but if you're concerned, seek out friendship and motivate yourself to fix the weight problem with your peers. There are a lot of students who have the same concerns as you do. Just be open about it. You may want to also speak with your campus doctor for health options. Also, take advantage of the campus gym — it's almost always free to students. Finally, get enough sleep. As tempting as the all-nighters sound, it adds to the stress that contributes to overeating.
The weight gain is almost inevitable during the college years, but with a few changes in your lifestyle and a bit of discipline, you can overcome this obstacle and keep yourself incredibly fit during your school years.