Caroline Huang – MIT Camp Kesem Founder and Rhodes Scholar
Each year the Rhodes Trust selects an elite group of American students to represent the United States. These Rhodes Scholarships, "the oldest and best known award for international study," are likely "the most famous academic award available to American college graduates."
Chosen in a two-stage process, candidates must first be endorsed by their college or university. Committees of Selection in each of 16 U.S. districts review the applications and then invite the strongest candidates to appear before them for an interview. Selection for the interview is based upon high academic achievement, integrity of character, a spirit of unselfishness, respect for others, potential for leadership, and physical vigor.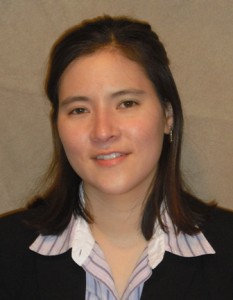 This year, from 805 endorsed students, 216 applicants reached the final stage of the competition before the committee chose the 32 Rhodes Scholars recipients.
Today we give readers a chance to hear from one of the recipients for 2009, Caroline Huang of the Massachusetts Institute of Technology. As with the other Rhodes Scholars selected, Caroline is first and foremost an exceptional student.
A Brain and Cognitive Sciences major and sporting minors in psychology and political science, Caroline is interested in careers involving either health policy or psychology. At Oxford, her doctoral work will examine the ethical and policy implications of specific gene mutations that are linked to increased risk of specific cancers. Caroline wants to research how clinicians can help patients make individualized decisions about genetic testing and the necessary support mechanisms that should be put into place for people who have had or are considering genetic testing.
But in addition to her academic stature, Caroline is the founder of Camp Kesem at MIT, a free, week-long summer camp for kids whose parents have or have had cancer. Having been affected by the destructive power of cancer herself, Caroline epitomizes the Rhodes, spirit of unselfishness, criteria.
Read on to learn about this remarkable young lady, her work with Camp Kesem, her unique club imperfect@MIT, and what it felt like when she learned she had been selected for this prestigious award. When you are done, we are sure you will understand why Caroline was one of the 32 students selected to represent the United States.
As the valedictorian of your high school, you clearly had a lot of options regarding higher education. Can you explain the decision-making process you used to select MIT?
I applied early action to MIT and was fortunate to be accepted in December, which eased the college admissions process considerably. MIT appealed to me because of its hands-on undergraduate research opportunities, the interdisciplinary nature of the Brain and Cognitive Sciences program, and the wide variety of extracurricular projects in which students participated. (For a few examples, I'm helping to teach a trufflemaking class for the Laboratory for Chocolate Science this January, and I became a certified Emergency Medical Technician-Basic through MIT's student-run ambulance service.)
Additionally, I grew up visiting and enjoying Boston – my mom grew up in North Easton, Mass., and my dad received his S.B., M.Sc., and Ph.D. degrees from MIT, so I loved the idea of being able to explore Boston for four years. Lastly, I'm a huge Boston sports fan, so the idea of attending games and watching the New England Sports Network on a fairly regular basis was exciting.
The other colleges I seriously considered were Duke and Boston University, both of which would have been great choices. In the end, MIT seemed like a better fit.
One of your greatest accomplishments has to be the creation of Camp Kesem MIT. For our readers who are unaware of this nationally affiliated organization, can you explain what Camp Kesem is all about?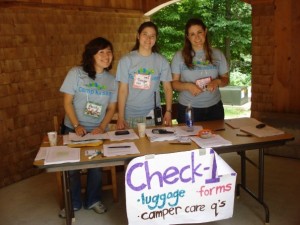 Camp Kesem provides a free, week-long summer camp for kids whose parents have or have had cancer. "Kesem" is the Hebrew word for magic; our goal at Camp Kesem is to provide these children with a magical week that allows them to escape the harsh realities of cancer.
Campers participate in normal camp activities such as swimming, arts and crafts, and sports; what makes Camp Kesem special is that during these activities, campers realize they are surrounded by other children in the same situation. Through love, laughter, and support, Camp Kesem helps campers to share each other's strength and realize that they are not alone.
The other half of the Camp Kesem mission is to empower student leaders. In the process of organizing Camp Kesem, college students serving as volunteer organizers and counselors gain hands-on experience in running a nonprofit out of their dormitory rooms. The students involved are all part of a tight-knit community and help out when other counselors have family crises, schoolwork difficulties, and more. Best of all, student volunteers who invest their time and energy into Camp Kesem are able to see a positive, tangible difference in the campers in just one week.
My understanding is that your desire to start a branch of Kesem at MIT was somewhat personal. Can you talk a little bit about the impact of cancer on your life?
When I was 13 years old, my paternal grandmother died of colon cancer; almost exactly one year later, my paternal grandfather died of prostate cancer. As a teenager, it was hard to make sense of so much loss in such a short period of time and to come to terms with the idea that Grandma and Grandpa wouldn't be able to attend my tennis matches or high school graduation.
When I visited Duke during my junior year of high school and heard about their campus branch of Camp Kesem, I knew that I wanted to be involved with the program. It combined two things that mean a great deal to me: summer camp, which I had attended since the age of five, and families affected by cancer. Once I knew I wouldn't be attending Duke, I called up Camp Kesem National and asked if it would be possible to start a campus branch at MIT. Luckily, Camp Kesem National said yes.
Creating an MIT-affiliated camp had to consist of some incredibly hard work. Did you raise the funds for the program? If so, can you explain the process you used?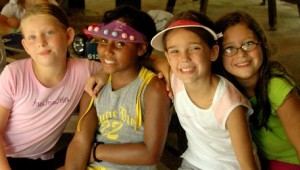 Fundraising has been, and probably always will be, the most difficult and time-consuming aspect of organizing Camp Kesem. Because of the financial burdens that cancer places on families, we offer it completely free of charge – which means that for Camp Kesem 2010, our target is to raise $55,000.
Our primary methods of fundraising are writing grants and soliciting personal donations; we also run mini-events throughout the year (e.g. bake sales, Valentine's Day candy-grams, and care packages). In the past year, we've also added a few larger-scale events, such as an informational brunch called "Make the Magic" that combines student, camper, and parent perspectives on Camp Kesem's impact. Corporate matching programs and community partnerships have supplemented our funds as well.
From 2007-2009, I served as the primary grant-writer for Camp Kesem and secured grants totaling over $30,000 from sources inside and outside of MIT. The fundraising coordinators and I also worked individually with each Camp Kesem coordinator and counselor to ensure that he or she reaches a personal fundraising goal of at least $400.
We try to be creative with our fundraising ideas: the most outrageous involved male counselors donning colorful bras and asking passersby to "stuff their cups" to raise money for camp. The trick was having other counselors there to explain that the weirdness was for a good cause, and that our male counselors aren't afraid to humiliate themselves to help kids whose parents have cancer.
The saddest and sweetest source of funds comes from several of our camper and counselor families' request that in lieu of flowers, well-wishers can make a donation in memory of loved ones who have died. The first time this happened was in October 2007, right after our first session in August. I was blown away that a family of three campers felt so strongly about Camp Kesem that in their darkest hour, they wanted to share our program with other families in need.
And you also were responsible for staffing the program? How did you go about recruiting others to work at the Camp?
Initially, recruiting students began with the people I knew: students in my dormitory, pre-orientation community service program, and freshman classes. After we had a small core group, we began to publicize the program to other undergraduates through e-mails, posters, and information sessions.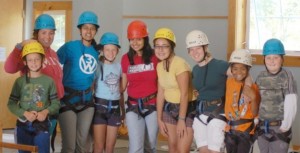 Being a Camp Kesem counselor is a fairly substantial time commitment. We require every counselor to attend 30 hours of training, split up over several Saturdays in April and one long day in August. Training consists of modules such as behavior management, grief and mourning, aquatic safety, and medical and emergency procedures. Additionally, every counselor is required to help us fundraise, serve on one planning committee, and attend camper reunions and publicity events. Yet in the past two years, we've seen applications skyrocket. For roughly available 25 spots, we received over 50 applications last year – and we're expecting even more for the 2010 session. I think the number of applications is a reflection on the giving spirit of the MIT community, and how much the Camp Kesem experience gives back to the counselors.
I would think that affiliation with other institutions in Massachusetts would also be critical for the program. Can you talk a little bit about your community partnerships with local hospitals and cancer centers?
Aside from fundraising, I think finding families who want to participate in the Camp Kesem program is the most difficult aspect of planning. This was especially true our first year, when we did not have families singing Camp Kesem's praises like we do today. We couldn't exactly walk up to parents and say, "Have you or your husband/wife/partner had cancer? If so, do you want to send your kids to a college student-run camp?" Instead, we had to be more subtle and work with local social work/patient advocacy programs and support groups; these social workers and program leaders served as our liaisons to families coping with cancer.
During the first year, Camp Kesem MIT had the luxury of being advised by two local graduate students who had been Camp Kesem counselors at Stanford and UC-San Diego, respectively. Our two advisors and I met with social workers and other clinicians to explain the program, the meticulous national standards that we abide by, and the compassion shown by student counselors. We were able to convince these clinicians and families of the benefits of Camp Kesem. Over the past three years, we have continued to build strong relationships with Dana Farber Cancer Institute, Massachusetts General Hospital, Beth Israel Deaconess Medical Center, and other hospitals and resource centers in terms of financial support and camper referrals.
Camp Kesem MIT was the only branch to earn a perfect internal rating of 100? What does that entail?
Internal ratings are based on the American Camping Association's accreditation criteria, which is a combination of safety, staff training, and camp programming best practices. (For example, the list of standards includes proper aquatic safety and medication management.) We were proud to have earned a perfect rating because it meant that we prepared a program that was not only fun, exciting, and cancer-aware, but also completely safety- and health-conscious.

For your Rhodes Scholar essay you briefly told the story of one camper and the impact Camp Kesem had on him. Can you share with our readers his story so that they have an understanding as to how a program like Camp Kesem can impact children?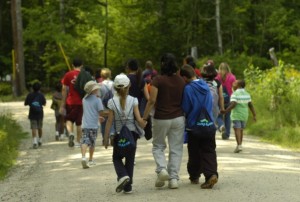 For context, the Camp Kesem Camper Care Committee requests that each parent fill out an application and questionnaire about their children that helps us better serve their family. One question asks about the campers' knowledge of their parents' cancer, including the effect that cancer has had on the children.
In one camper's case, his mother wrote that he had low self-esteem since the time of her cancer diagnosis – another instance of the invisible markers that cancer leaves on the children of cancer patients. Sure enough, after his team lost a kickball game at the beginning of camp, the camper grew upset and told a counselor, "I never win in life." At staff meeting every night, the subject of his self-esteem came up, and we resolved to try to boost his confidence if at all possible.
We had three such opportunities. With encouragement from the counselors and other campers, this camper was able to participate in all facets of the ropes course – no easy feat for a 9-year-old. Secondly, this camper had never been canoeing before and was a bit afraid of the lake. But he joined another camper and me for his first canoeing trip. He'd say, "I'm a little scared," and I'd respond, "Do you want to turn around?" He'd then say, "No, just a little bit farther." By the end of our canoeing session, we'd been as far out as the lifeguards allowed. The final opportunity came when we were deciding on our annual camper awards; we gave him the "Most Adventurous" award. That night, his counselors said that he kept flicking on his flashlight to look at the award just one more time, all the while with a huge smile on his face.
When it came time for parents to pick up their children, this camper's dad saw him interacting with other campers and counselors and began crying a little. "He's a completely different person now," he said through his tears.
As touching as this camper's story is, one of the remarkable things about Camp Kesem is that every one of our campers has an amazing story. The resilience that our campers have is astounding, and we are fortunate to facilitate their growth through the Camp Kesem experience.
Now you serve as the National Student Advisory Board Co-Chair for the organization?
The National Student Advisory Board (NSAB) serves as the liaison between Camp Kesem student leaders and the Board of Directors, who handle bigger-picture decisions such as our fiscal responsibility agreements and national branding. The other NSAB members and I are trying to eliminate the divide between student leaders and the Board by providing two-way communication. We want to explain to students how the Board makes decisions, and at the same time ensure that the Board understands the student perspective on national policies and campus priorities.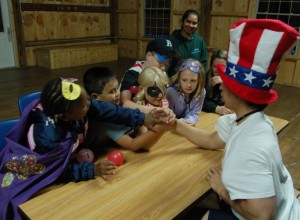 One of my main responsibilities of being an NSAB Co-Chair is leading conference calls with the regional and national advisory boards, and participating in the Board's bimonthly conference call. The conference calls are a great way for campuses to gain fresh ideas for fundraisers, theme days at camp, sustainability practices, and more. Beyond the calls, my co-chair and I are in the process of setting up more information-sharing projects such as a campus buddy system and a wiki.
During your time at MIT you have also served as an 'issues intern' in Senator Edward Kennedy/Senator Paul Kirk's Office. Can you explain what an issues intern does? What have you learned from this work that you would not have learned otherwise while in school?
An issues intern handles constituents' questions and concerns about legislation. On any given day, I might help a social worker address insurance problems with a regional Medicare office or educate constituents about educational loan legislation. Though people say government is inefficient and ineffective, I found Senator Kennedy's district office was just the opposite: we returned every phone call and answered all letters sent to our office.
As a result of working in the Boston office, I became much better informed about politics and especially legislation relevant to my issue areas: arts, disability, education, environment, Social Security, and women's issues. Similar to my work with Camp Kesem and the NSAB, much of my work was about connecting constituents with resources and information, which I found satisfying. I also had a chance to practice responding politely to constituents who disliked health care legislation, such as the woman who said our office should keep our hands off her Medicare. Those experiences, coupled with years of living with an older brother who good-naturedly teased me, definitely helped prepare me to deal calmly with the intensity of Rhodes interview.
I am intrigued by one of your activities at MIT – my understanding is that you are a founding member of the imperfect@MIT club? Can you explain the purpose of this organization and your rationale for creating such a club?
The idea for imperfect@MIT came from a Duke study that found undergraduates felt pressure to be effortlessly smart, accomplished, attractive, athletic, and popular. The study described this phenomenon as "the myth of effortless perfection." This myth manifests a little differently at MIT, in that some students brag about taking the most classes and having the most work, and consider sleep deprivation a badge of honor. This lifestyle puts students at risk of burnout, especially when they are accustomed to standing out the same way they did in high school: succeeding on intelligence alone, putting minimal work into classes, concentrating on a smorgasbord of activities, and somehow achieving enviable results. I have definitely had days when I felt that the work I was doing was not getting me anywhere, but the imperfect@MIT message reminds me that it is perfectly natural to struggle sometimes – and that sometimes struggles sweeten the subsequent rewards.
imperfect@MIT is still a project under construction. While it can be hard to have students buy into the idea that their best is good enough, we think it's an idea worth communicating. I and the other students involved will continue to work toward dispelling the myth of effortless perfection and encourage students to have a healthy attitude toward success.
Can you talk a little bit about the Rhodes Scholar application process?
The Rhodes Scholarship application process is, in a word, intense. The written application consists of an institutional endorsement, five to eight recommendation letters, two-page curriculum vitae, transcript, and 1,000-word essay detailing your most meaningful college experiences and how they relate to your proposed field of study. About a month later, each District Committee notifies a small group of applicants that they have been invited to the Friday night cocktail party and Saturday interview.
The cocktail party is an informal way to familiarize you with the other applicants and the Committee members, engage in some interesting conversations, and eat some tasty desserts. The Saturday morning interview is more grueling: you sit at the head of a table in the library with seven Committee members for about 20 minutes, and they probe your knowledge about anything from current legislation to coursework you completed a year ago. Thanks to advice and preparation from MIT's Fellowships Office, the 20 minutes flew by before I knew it. After that, I went back to my hotel to check out of my room, ate lunch in Haverford's dining hall, and returned to wait with the other applicants while the Committee deliberated. Around 4 p.m., the Committee called us back into the library to announce their selections.
Interestingly, receiving a Rhodes Scholarship does not automatically earn you admission to Oxford. Over winter break, I submitted my formal application (primarily my research proposal and two 2,000-word essays) and chose which college I wanted to live in. I am glad that's the last application I'll have to fill out for a while!
So what opportunities will the scholarship offer you that you might not have had the opportunity to pursue otherwise?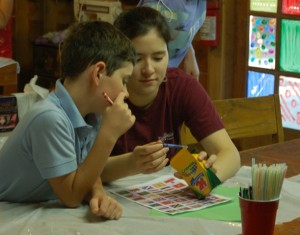 I am interested in careers involving health policy or psychology. My doctoral work at Oxford will examine the ethical and policy implications of the BRCA1/BRCA2 gene mutations; mutations to these genes are linked to increased risk of breast, ovarian, and prostate cancers. My project will investigate how clinicians help patients make appropriate individualized decisions about BRCA1/BRCA2 genetic testing, as well as looking at the support mechanisms in place for people who have had or are considering genetic testing.
This research will expose me to both an understanding of ethics and communication in health care and the psychological effects of illness on decision-making. The best opportunity provided by the Scholarship is the funding that will enable me to conduct doctoral research with two great professors, Michael Parker of Oxford's Ethox Centre and Anneke Lucassen of the University of Southampton.
Also, as someone who has never been abroad except for a short trip to Mexico, I am looking forward to traveling around Europe and gaining a firsthand perspective of European health care and political systems. In three years, I hope to leave Oxford with a better sense of whether to pursue a career as a health policy professor and researcher or a clinical psychologist.
I cannot think of any greater honor for a college student than to receive this prestigious award. Can you talk a little bit about how you felt when you learned you had been selected.
Unlike other scholarships that notify applicants of their status by e-mail or phone, each Rhodes District Committee gathers the interviewees in one room, congratulates all applicants for being strong candidates, and then reads out two names in alphabetic order. The people whose names are read out are the Rhodes Scholars-elect.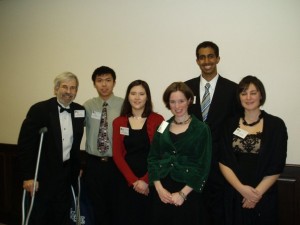 My name was called first, and I felt honored and humbled to be selected from a pool of such talented candidates. After that, everything just felt surreal – I went from writing for the campus newspaper, The Tech, to being mentioned in a front-page article alongside MIT's other two winners, Ugwechi Amadi and Steven Mo. Most of all, I am grateful for the kind words and support from my family, friends, and the MIT community.
Photos courtesy of Camp Kesem MIT and Caroline Huang.